The screen and coat (also called buff and coat) procedure is a cost effective method of revitalizing worn or dull floors. This procedure can bring floors back to life but will not take out deep scratches, dings OR color change. Screening involves abrading the old finish on the existing floor and making it compatible for applying another layer of new finish.
R.J. Bernath will deep clean your floor, abrade the finish and apply 2 finishing coats. Usually cleaning and drying will take one day, abrading one day and one coat of finish applied per day. Additional time may be needed depending upon the amount of square footage.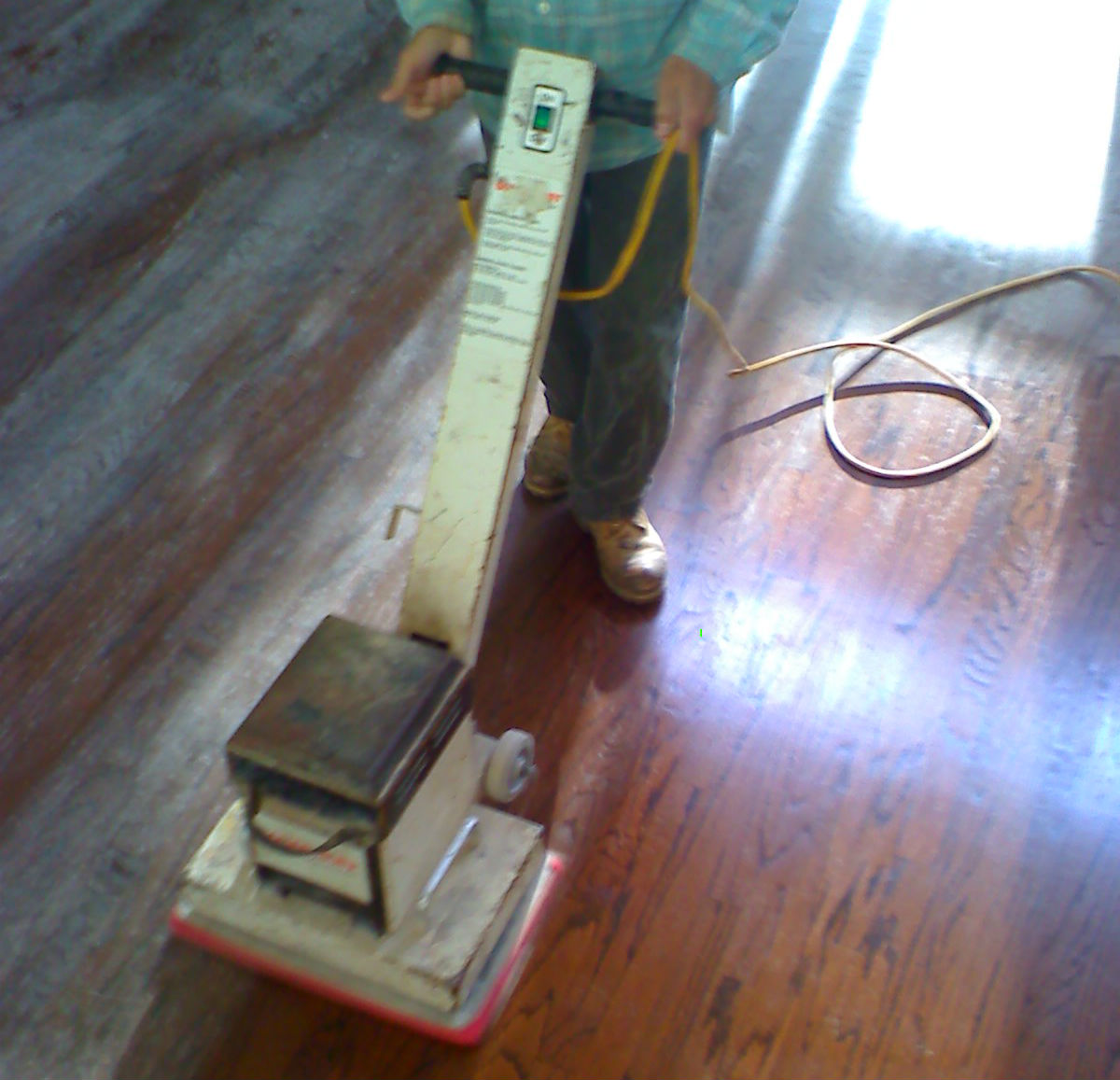 HARDWOOD FLOOR REFINISHING
A total refinish may be needed when worn or bare spots begin to appear, scratches are noticeable, color has changed or new stain color or sheen change is desired.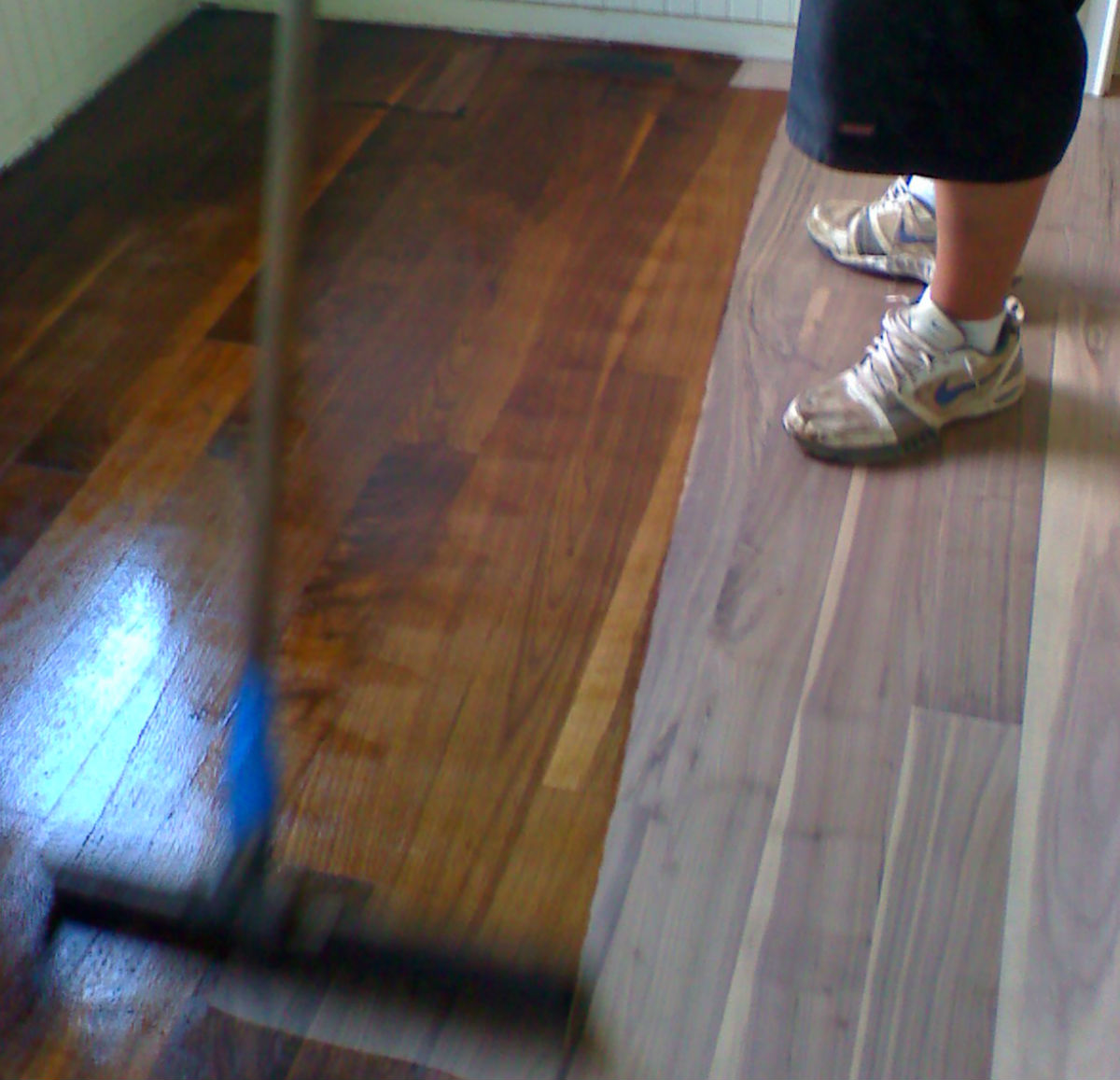 Site finishing of new floors or refinishing of existing floors takes more time than screen and coat. Once the floor is sanded and coated with the preferred finish it may appear flawless. Our skilled floor finishers can offer a near table top appearance without waves or other imperfections common with unskilled workmanship.
R.J. Bernath uses a dust extraction system. Our extraction system takes an enormous amount of dust finish materials out of your living environment. It should be noted, however, that a light amount of dust will still be incurred. Poor dust control can also have an effect on the final appearance of your floor.
HARDWOOD FLOOR INSTALLATION
Gluing of hardwood floors represents a sizeable part of the hardwood flooring business with most if it installed on concrete in homes that are generally on grade (no basement). Glue-down flooring is installed by trowel spreading of adhesive on the subfloor in a pre-determined area. Each board is individually placed into the adhesive until the glued area is covered. Not all products can be glued easily. Solid hardwood has a lack of flexibility compared to engineered flooring, however not all engineered flooring can be glued.
R.J. Bernath has extensive knowledge in determining whether glue-down is appropriate for your application. SUB- FLOOR PREPARATION IS A MUST.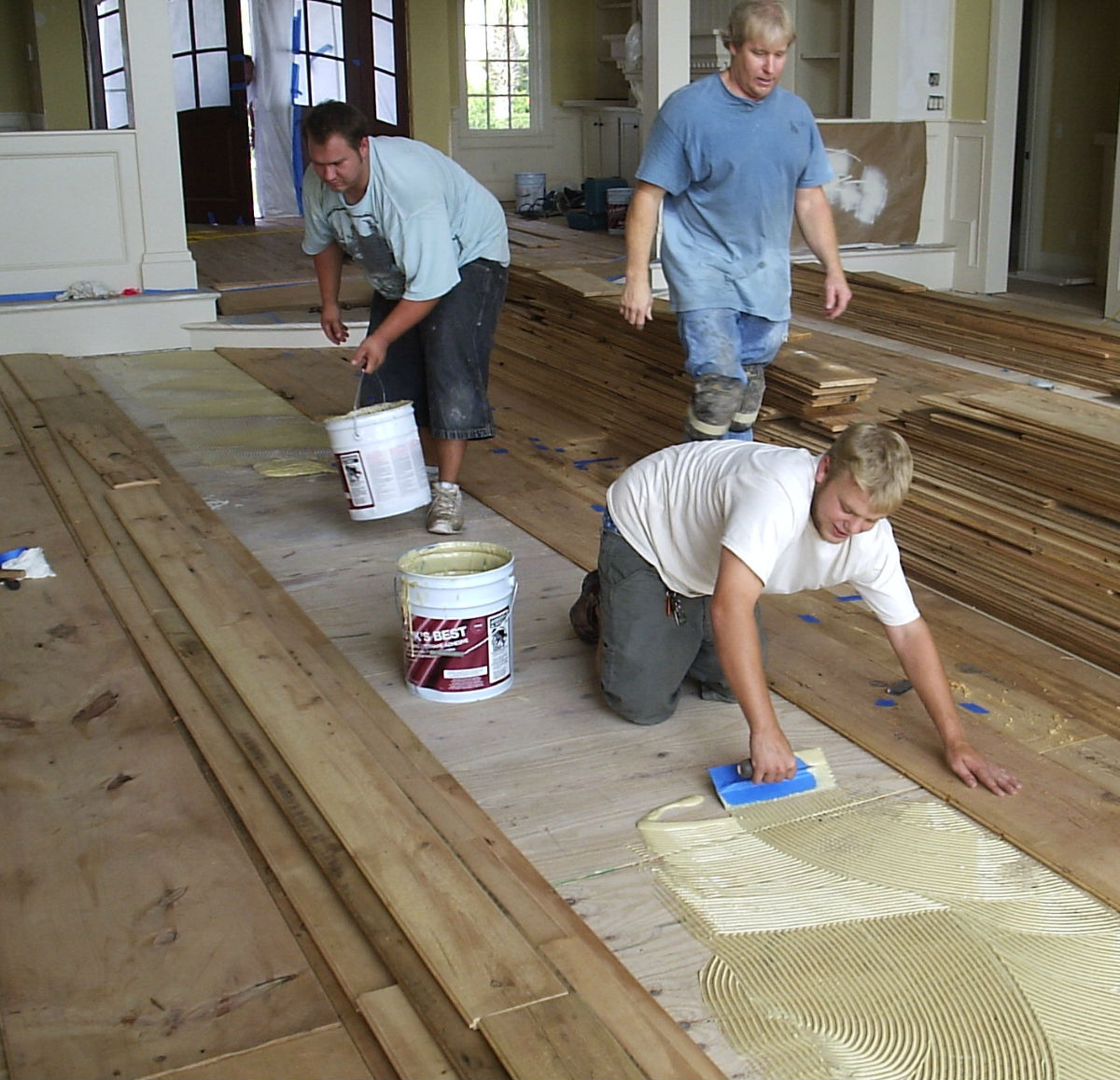 Adhesives used for this type of installation are very costly and not just any adhesive will do. The adhesives used are non-toxic and environmentally friendly for most applications. Curing time is typically one day or an overnight period before furniture can be moved back into place.
Installing hardwood floors by traditional nailing methods have changed considerably over the years with the advent of pneumatic fasteners. A suitable sub-floor is a must for this method.
Floating hardwood floors are those that are not secured to any sub-floor. Most are engineered. They are suspended above the floor while resting on a cushioned underlayment. Originally there was only a "glue-together". A bead of glue is squeezed into the grooves of each plank. After application, then the wood is tapped into place with hammer and tapping block.
Another type of floating floor is called a "click together". These are installed by the floating method but without glue. There is a mechanized system milled into the boards that allow the floor to stay in place by tongue and groove once they are connected.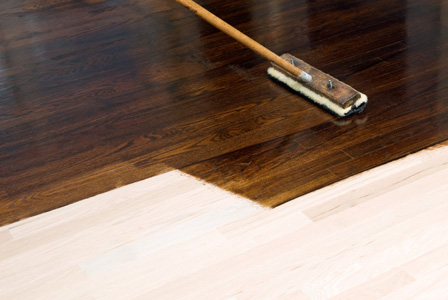 We are only limited by your imagination! The artisans at R. J. Bernath can use pre-mixed stains or custom blend a stain for your hardwood floors. We have the expertise and ability to mix stains which can cut the natural tones in wood to achieve a custom color for your wood floor. Whether trying to match or complement cabinetry, countertops, stone, brick, fabric, etc., we can make a color to fit your decorating color scheme. After the wood species of board is selected, samples are prepared and shown to clients. We will work with you until are totally satisfied with color and wood floor finish.
R.J. Bernath works with top interior decorators all over the country directly and/or with their clients.
EUROPEAN-OILED WOOD FLOOR FINISH
This technique is growing in popularity with top designers and decorators throughout the country. This type of oil wood floor finish has been manufactured in Europe for over 30 years and is currently used on almost 1/3 of wood floors sold in Europe. The oils used by R. J. Bernath are environmental friendly emitting zero VOC's while penetrating and hardening. As the oil cures, it hardens to form a very protective surface that becomes part of the wood floor.
This means that normal wear and tear, such as small scratches and indentations, do not show up as much as those that occur on a urethane floor. In fact, as the wood floor ages, it is enhanced in appearance. The oil finish also allows the wood floor to breathe through its surface not just along its edges. These natural oils give the floor a very natural, durable, and flat sheen. Wood floors with this finish can be spot treated where needed, as needed, instead of having to be fully sanded and refinished. If an oiled-finished floor is properly maintained, it may never have to be sanded. This finish is excellent for owners who have pets to high traffic areas as in a commercial establishment.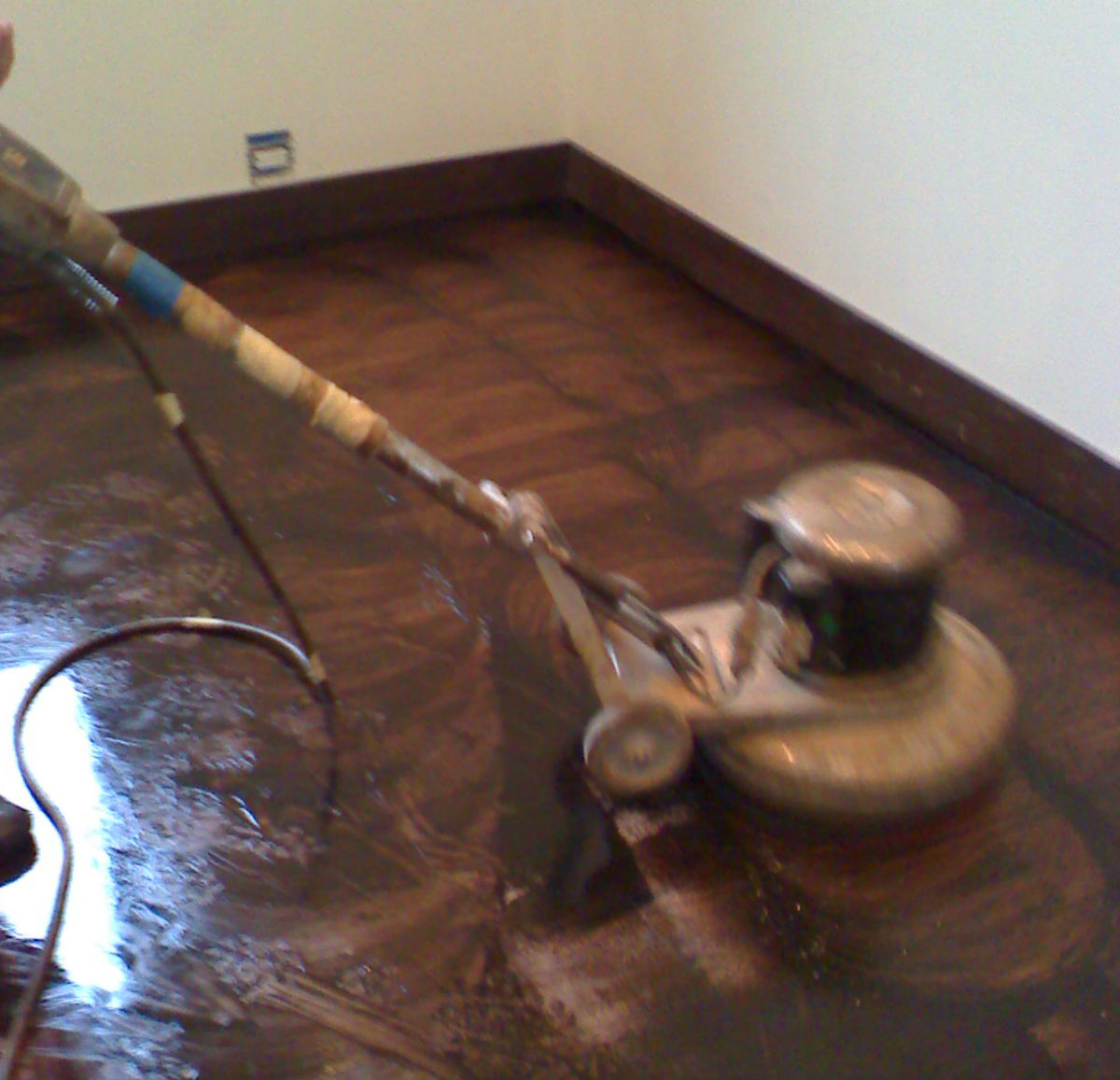 URETHANE WOOD FLOOR FINISH
Urethane top coating has been the coating of choice due to its satin to glossy sheen. Urethanes are residual sheets of plastic sometimes with minerals added and can be oil based or water borne based. Its function is to protect the surface of the wood and is a film-building finish.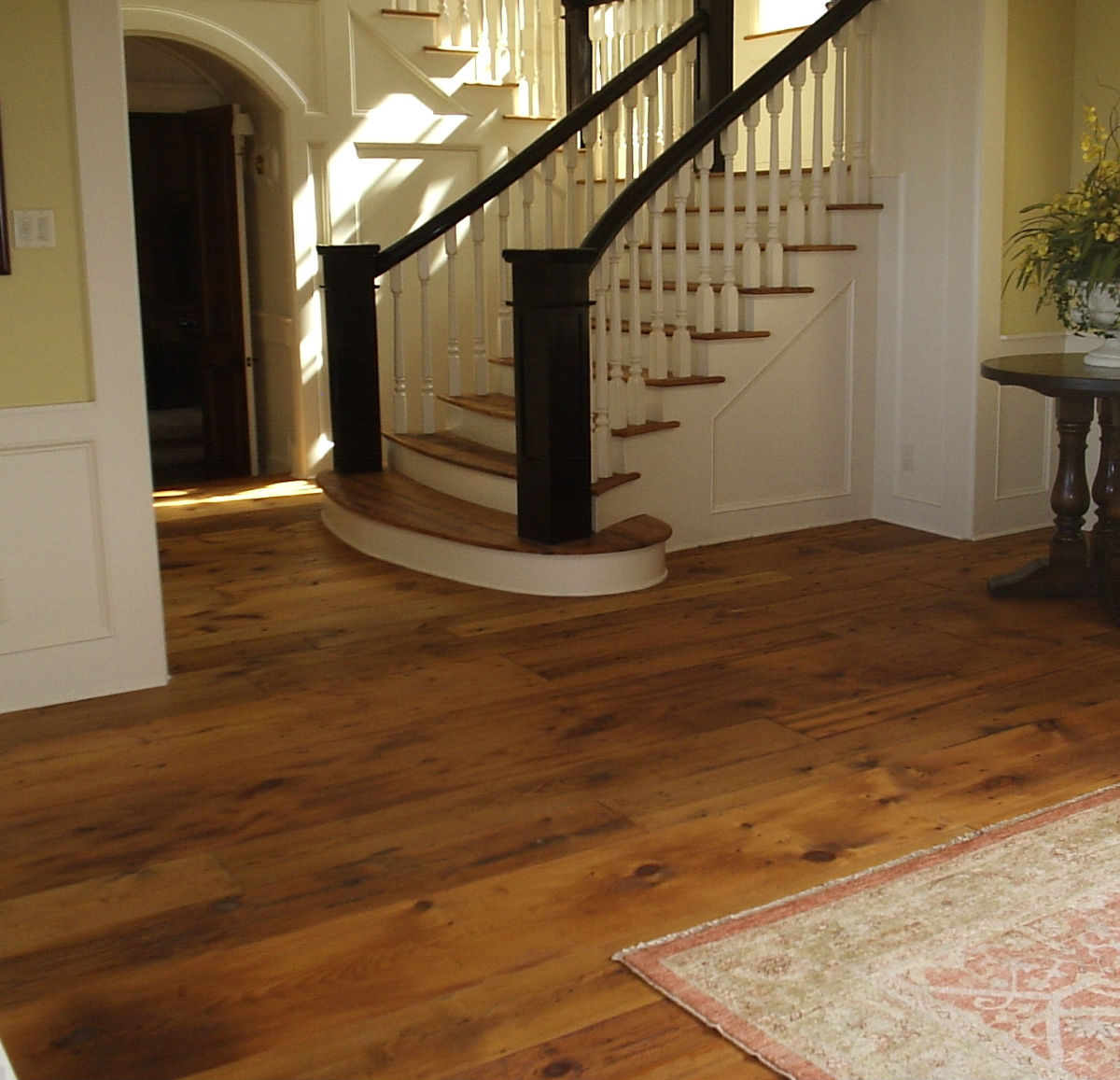 The advantages to a urethane finish are that a higher gloss level can be achieved than with other finishes and initial maintenance in residential applications may be slightly less.
Whether site finished or factory pre-finished will never look better than the day it was installed. The purpose is to provide a surface on top of the wood upon which to walk and live. The minute they are lived on, they begin to degenerate by wear and tear and the floor will gradually become more and more worn.
Initial and short term maintenance is simple, but long term maintenance involves the entire floor being cleared and then sanded or screened and recoated with the new finish.
Polyurethane has been around in the United States since the 1930's, specifically for bowling alleys. Today it is still known for its capability of flowing out to a smooth and durable finish. It fills in and flows over the open grain of many hardwoods giving it a desirable "grain-filled" characteristic. It will develop into an amber color based look as it ages over the next several months. This can be good if you want your wood floor to have a warm tinted look. This finish takes 3-7 days to cure before putting furniture back in place and the smell may linger for several days or weeks. Solvent based finishes are being slowly eliminated because of health issues, and environmental laws.
Water Borne is a newer acrylic based finish. It has the same function as the oil-based polyurethane but without the changing to the amber color, and no smell. The other advantage is that it creates a harder surface than the oil-based polyurethane. For this reason it is used on gymnasium floors and in commercial applications. The only drawback in this finish is that it can raise the grain of the wood thereby causing the floor to be rough. This only happens with the first coat. R. J. Bernath knows how to seal the wood floor, creating a barrier coat between the stained bare wood and the first coat of urethane.